Are You Building or Renovating?
We have a great range of services for our residential clients.  Polished Concrete Floors – Decorative Concrete Resurfacing – Resin Floor Coatings. We can transform most concrete surfaces and floors in and around your home.  We offer many different styles of flooring to suit different styles of architecture and design. From your Driveway to your back Patio and every concrete surface between!
Polished Concrete – all concrete can be beautiful.  Just below the surface of your concrete floor is a beautiful polished concrete floor just waiting to be discovered.  Concrete floors are full or aggregate just waiting to shine.
Decorative Concrete Resurfacing – We have concrete resurfacing /decorative overlay systems that create a new surface on your existing concrete floor.  We have a full range of colours and effects to create the look you want.
Resin Coatings – We have advanced polyaspartic resin flooring systems, plain colour coatings or decorative additives.  Our polyaspartic coatings are fast to install, high abrasion resistant, UV resistant, high chemical resistant, and won't peel off – guaranteed.  Suitable for both internal floors like garage floors and driveways, patios, pool areas and more.
Is it time to spruce up your home?
The concrete surfaces in and around your home can make a big difference to the  way you feel about living there.  From a visual change to making it more functional, you can enjoy being there more than ever before.
Here are some of the changes you can make
Lets start at the front –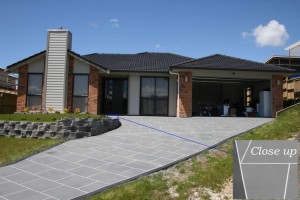 does your driveway say "WOW" or "Nothing to see here"?
We have a number of options for concrete driveways – like cleaning and sealing of exposed aggregate, recolouring stamped and imprinted driveways to grinding & sealing, and resurfacing to your concrete driveway to give it a whole new look.
You can have the best looking driveway in the area! Giving you great street appeal.
Paths and Patios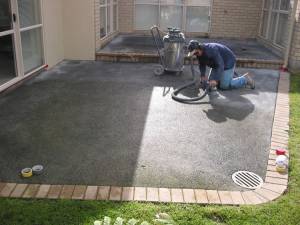 For many people, looking out your window is not super inspiring, especially when you see a patio that is worn, dirty and discoloured with algae.  Some exposed aggregate surfaces are too rough to walk on in bare feet, and not safe for children to play on.
The good news is we have a solution (or 4)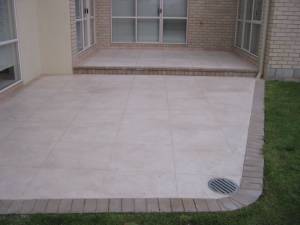 We can Clean & Seal the surface to prevent it growing moss and algae, we can Grind & Seal it, or we can Resurface the area to give it a whole new look – like we did for this one.
We resurfaced this patio with Cretecova, which creates a tile like surface over the concrete patio.  the surface is finished with an anti-slip sealer for lasting results.