Are you happy with your garage floor?
Many people are searching for garage floor coating and paint finishes in New Zealand (NZ).  Lucky for you, you found us.  We have industrial grade floor coatings that are perfect for garage floors. We also do industrial and commercial resin floor coatings.
P.S. Concrete Paint is a dirty word to contractors – we like Concrete Floor Coating or resin coating.
We get calls all the time from people who say "I was getting my house painted and asked the painter to paint my garage floor. A couple of months later the paint started peeling off".
Why does garage floor paint peel off?
The number one reason concrete floor paint peels off is poor preparation.  Most painters don't  own proper concrete grinding equipment, and are unable to properly prepare the concrete to gain an adequate bond to the concrete floor. We do!  We have close to $100,000 worth of concrete floor grinding equipment

Another reason for garage flooring coatings to fail is moisture or rising damp.  If the concrete floor does not have a sheet of polythene under it, moisture in the soil beneath the concrete can soak into the concrete and push the coating off the top. We can test your floor and apply a moisture barrier if required!
Floor Masters offers many different options for the finish of your garage floor.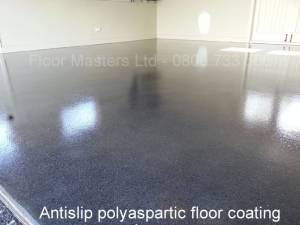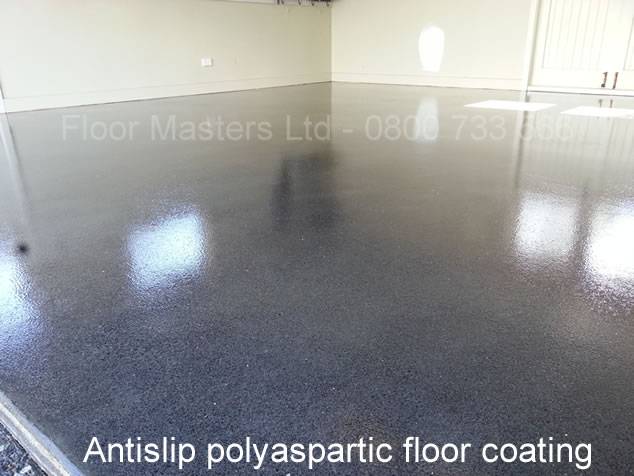 Polished concrete – see the example of a grind and seal finish (light grind with minimal aggregate exposure) and a clear polyaspartic floor coatings with an anti-slip additive.
Polished concrete (grind and seal) works in a garage if there is not extensive oil stains and if the floor is fairly flat.
All garages should be sealed with an anti-slip additive.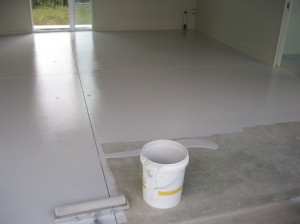 Epoxy floor paint is common for garage floor coating.  Floor Masters Ltd has a couple of epoxy resin floor coatings we use in garages.  Both solvent and solvent free epoxy resin coatings are used to add a coloured coating over a floor to hide stains and repairs to the garage floor.  It is very important that the garage floor is properly prepared before painting/coating with epoxy.
Note – not all epoxies are created equal – Retail products rarely have the quality of Trade products
Diamond grinding is the best method and we include diamond grinding the garage floors before painting them with epoxy.
 Preparing and painting/coating your garage concrete floor, or any concrete floor surface requires professional preparation.  WE OFFER THIS AS PART OF OUR SERVICE!
 Polyaspartic garage floor coatings – these are the top of the line, high performance coatings.
We guarantee our Sparta-Guard, Sparta-Flake and Sparta-Quartz polyaspartic resin floor coating systems will not peel of flake off.  Hot tyres will not lift these garage floor coatings/paint.  Polyaspartic resins offer high adhesion and much higher heat and abrasion resistance than traditional epoxy floor coatings.
Tests show up to 4 times the abrasion resistance compared to epoxy.  On top of the they are UV stable (will not yellow) and remain semi-flexible forever (less prone to cracking).
We can do clear coatings over prepared concrete, coloured coatings and decorative Flake and Quartz coatings to make garage floors look amazing.
Our polyaspartic coating systems are fast to apply and fast return to use.  Most cases we can finish your garage floor in just one day, and you can park in there the next afternoon.