Choose your garage floor coating – epoxy or polyaspartic concrete floor coatings.
There are many very good reasons to coat your garage floor with a resin floor coating.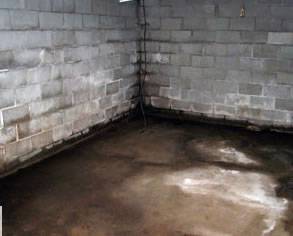 I
Protect your garage floor from chemicals
Better light reflection
Makes it easier to clean your garage floor
Greater durability
Better appearance
Stop dust being tracked from your garage floor into your home
Hide a dirty, stained or marked surface.
Preparation of your garage floor
One of the most important factors in a lasting result is proper preparation of the concrete floor.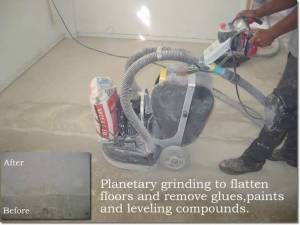 The surface of the concrete floor must be abraded by diamond grinding to allow the coating to form a very strong bond.  The resins create a mechanical bond by absorbing into the surface of the concrete and latching to the surface profile.
Our systems are not prone to "hot tyre pickup" or peeling because of the products we use and our procedures for properly preparing the concrete floor.
Some floors will require a moisture barrier and others will require leveling or repair, we can take care of all of that.
So, which garage floor coating is best for you?
We have a number of floor systems that are perfect for garage floors.  The right choice for your floor depends on a number of factors.
What will the area be used for?  Is it just parking, storage or more of a workshop?
Will the floor be subject to impact?
What do you want it to look like?
Our garage floor coating systems are in 2 categories
Epoxy coatings and Polyaspartic coatings.
1) Epoxy Coatings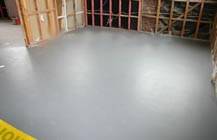 Epoxy resin floor coatings are an older resin technology.  We usually just apply roll coat plain coloured epoxy coatings. They are sometimes referred to as epoxy paint coatings.
Epoxy roll coats are a slightly cheaper way to tidy an ugly floor, hide minor repairs and provide a surface that is easier to clean.
For rough floors, or floors that will be subject to greater than standard impact, a self levelling epoxy coating is best.  The thicker 1-4mm resin coating will absorb the impact and protect the concrete floor from damage.
You can see our epoxy systems here Epoxy resin coating systems
2) Polyaspartic Coatings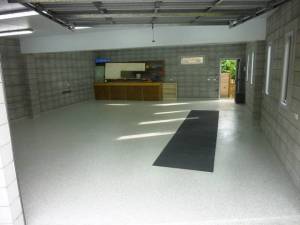 Many people will still be unfamiliar with polyaspartic resin floor coatings.  They are the future in resin floor coatings and Floor Masters is proud to be a pioneer in New Zealand with this resin technology.
Polyaspartic resins bring many benefits over older resin technologies.
Faster install and return to use (usually one day install)
About 4 x higher abrasion resistance
Higher chemical resistance
Clear, plain colours and decorative media systems (flake and coloured quartz)
Does not discolour with UV exposure (even white floors)
.
The polyaspartic resins are somewhat more expensive than epoxy resin, but we save time with faster installs, making the systems cost just a bit more.  But the advantages and performance far outweigh any additional cost.
See more of our Polyaspartic Coating systems here
Contact Floor Masters regarding your garage floor coating project.