Woodcrete- you won't believe it's concrete resurfacing
Floor Masters are continually developing new ways to make concrete floors and surfaces better.  This area at the back of this house was in desperate need of a facelift.  The patio area around to pool was very badly cracked.  they covered a lot of it with deck, but the immediate area at the pool edge was left as a tile surround (in a "lovely" yellow colour and bare concrete.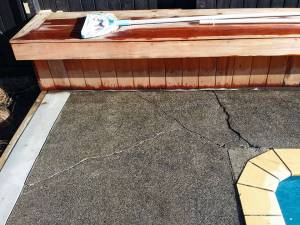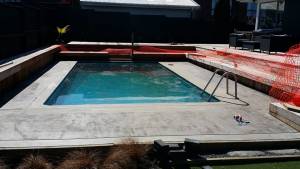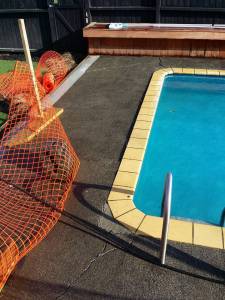 This  Project needed a fair amount of repair work with Fast Fix crack repair system and some ramping to blend the height of the coping tiles.  We also skimmed out the tiles to hide the tile pattern.  The area was waterblasted and some concrete grinding was undertaking.
The area was then skimmed with a coat of Cretecova.
The area was then overlaid /resurfaced with a finishing layer of Cretecova in a special method the creates a woodgrain effect.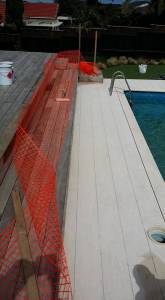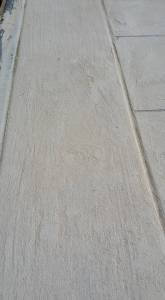 Then the surface was cut into a timber plank pattern.  This project was done with approx a 250mm plank size.
We can do your project in almost any timber size or a varied size.
We can also vary the "roughness" of the Woodcrete timber grain to give a refined or weathered look.
Suitable for internal and external areas.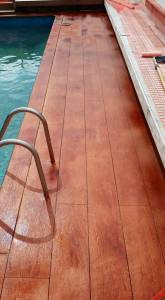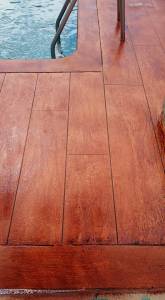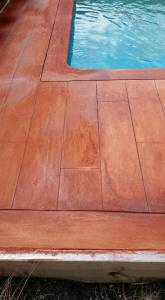 The area is then treated with a dye or stain that brings it all to life.  The Mahogany dye used on this job is applied to give a varied effect, it c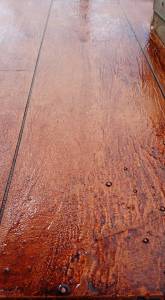 oncentrates in the grain and brings a life like finish.
I am sure you will agree that our WOODCRETE concrete resurfacing system makes a fantastic difference to new and especially old concrete.
Give us a call and we can discuss Woodcrete and other resurfacing solutions such as Cretecova, Thincova, Spraycova, Broomcova and Levelcova