Concrete transformations  – Project Profile – Cretecova Concrete Resurfacing
This client has a large home in St Johns, Auckland that was surrounded by lots of old worn concrete. He has renovated the interior to a beautiful high modern standard, but the exterior was not inviting nor attractive.
The concrete patios and paths were very badly worn and the aggregate was heavily exposed. It was not comfortable to walk on the concrete patios or around the pool with bare feet.
The first step was water blast the surface to clean the moss, mould and grime out of the surface.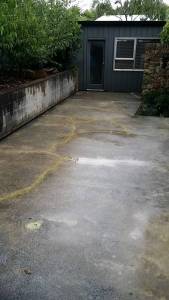 concrete then started the crack repairs – We used HP Spartacote's FastFix.  Fast fix is a hybrid polyurea crack repair resin.  Fast Fix offers many advantages over other products.
Fast cure allows work to be completed much quicker – about 15 minutes
Very thin liquid allows deep penetration and wicking into the walls of the cracks
Has some flexibility that reduces the likely-hood of re-cracking
We also removed the coping pavers from the edge of the pool because they were loose and the grout between them and bonding them to the top of the pool was failing.  These were a very roughly formed, exposed pebble.  The client had another contractor re-install them.  We then skimmed them and resurfaced them.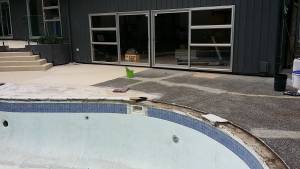 Next comes the primer and skim coat.  In this case the skim is a heavier "filler" coat to fill up the exposed aggregate rough surface.
Clients comment about how much this process changes the look of the whole area.
On this project because of how rough the existing surface was, we diamond ground the skimmed surface before doing the finish layer of Cretecova.
You can click any of the photos on this page to see larger versions.
More info to come