Do you have some external concrete driveway, patio or path areas that has seen better days?
Do you have cracked concrete and wonder how to repair it?
Say hello to Cretecova RaNDoM
For over 15 years I have been applying Cretecova decorative concrete resurfacing to concrete floors and external concrete paths, patios, driveways, BBQ areas, pool areas and any external concrete area you care to mention.
I admit it, I get a thrill out of transforming concrete – from dull and ugly to alive and vibrant inviting areas of your home.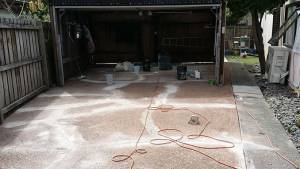 We have a great concrete crack repair product called Fast Fix.  It is a great product because it is so thin, it is able to really penetrate the cracks and create a strong bond inside the crack.  We have some really good success with it.
BUT if you consider that the concrete is about 100mm thick and cracked all the way through.  if I was optimistic I would say Fast Fix is getting down about 30mm (other systems get down about 5mm), if the crack is a little wider it is not having much effect lower than that.  That leaves about a 70mm crack or weakness in the slab.

What can happen is if force is put back on the slab the crack will start where the repair finishes and find the next weakest path to the surface, usually adjacent to the repair.
No one guarantees cracks will not reappear.
So here was my idea – why not use the cracks as part of a random design.  Cretecova is our trowel applied concrete resurfacing compound and is perfect for creating a new layer over existing concrete.  In the past we would scribe large square or rectangular patterns "tiles" into the surface, now we offer random stone pattern. (see below).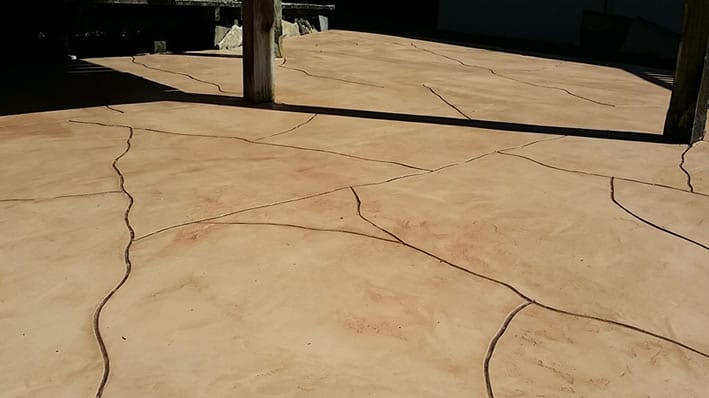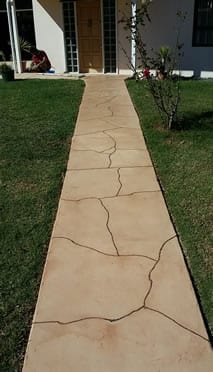 Here is a job that had lots of random cracks, big and wide cracks.  The colour of our Cretecova was Pumice with a Fawn colourwash.