Floor Masters is experienced in many forms of floor preparation.
Floor covering removal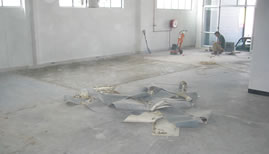 We can remove and dispose of existing floor coverings such as carpet, tiles, vinyl, etc.
We remove the coverings with minimal damage to the substrate and can then remove any glue residues via grinding.
Coatings removal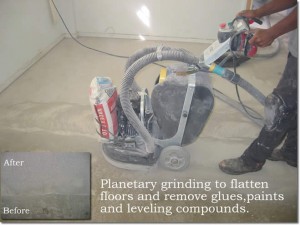 We can remove paint and sealers from concrete floors.  We have many clients who are moving into or out of new buildings (new to them) and need to either prepare the floor for what they want, or return it to "As leased" state (often means ready for carpet).
.
Preparation grinding
We can grind floors for coatings and prior to re-installation of floor coverings or resurfacing. With multiple machines we can quickly get the work completed and keep you on schedule. 30 – 30,000 SqM to the required standard. Need to clean up a concrete floor prior to, or after a leasing period? Call us first.
Floor Leveling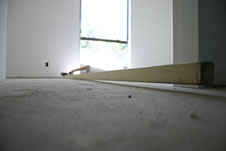 We can level or smooth floors and external concrete areas to stop puddling. Floor Masters use the highest quality floor repair and leveling compounds, and choose the right one for for each application. Our work won't fail after you cover it with costly flooring products. Sometimes savings come at a cost – there are some cheap and nasty products flooding the market at present.
We have a range of products available and can make recommendations depending on the end use and time frame for return to use and access.
Prep work for carpet, vinyl, rubber, timber etc.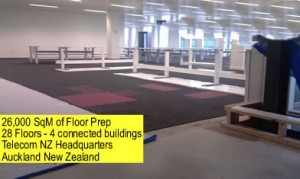 We are very experienced in floor preparation for floor coverings. Small to large scale commercial and retail jobs.  Our largest to date being Masons TCLM Telecom headquarters – 26,000 SqM of floor prep for carpet tiles, rubber and Marmoleum.  Installation of over 70,000Kg (3500 bags) of leveling compound.
You should be aware that timber floors require high quality floor leveling compounds.  The shear forces created by a timber floor expanding and contracting at a much higher rate than concrete can tear standard floor leveling products apart.  This is costly and annoying. You should also consider putting a moisture barrier under timber floors to reduce warping and discoloration.
Ramping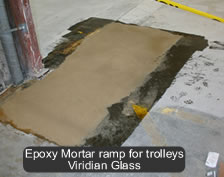 We can construct ramps and transition heights of adjoining floors. Cementitious or Epoxy mortar can be used, depending on the purpose.
Epoxy Mortar can be 2-4 times stronger than concrete – great for heavy loading and increased abrasion resistance. Can also be finished to a feather edge.
Joint and crack repairs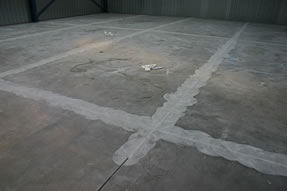 We can fill saw cuts in concrete floors with a range of products to meet your budget and performance requirements.
We can repair spalled (broken) joints to make smooth transition for wheeled vehicles and trolleys.
We can grind down raised edges of slabs.
We can do quality crack repairs with "10 Minute Mender" or epoxy mortar, depending on budget and time constraints.
We now use the Zipwall Dust barrier system. This is a plastic sheeting system that stops dust transfer to other areas of the job site.