Epoxy Floor Coating Systems
Floor Masters Ltd is an Approved Applicator for a variety of epoxy floor coatings. We can assist you in choosing the right epoxy floor system to suit your particular application. All epoxies are not equal.
Epoxy resins were first developed around the 1920's, and have been reformulated and refined in the decades since then.  The variations in formulations make epoxy suitable for many different situations.  It is very important to match the right product to the site requirements.
We now do more Polyaspartic resin floors  (Sparta-Guard) than thin coat epoxy. Polyaspartics have far greater performance characteristics and much faster install and return to use times.
Epoxies offer better heavy impact resistance and self levelling finishes.
There are two very important elements to a successful epoxy floor.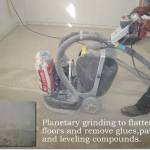 1) Preparation – even the best epoxy floor coatings need to bond well the to substrate. Proper surface preparation (usually diamond grinding or shot blasting, note- acid washing is not an acceptable method of concrete preparation), otherwise the coating will delaminate and break up, flake or peel. If the floor is prone to moisture issues, this must be addressed. We have specific epoxy primers we can use on damp and "green" concrete. N.B. Preparation will normally take about 50% to 80% of the time spent on site.
2) Product – There is no substitute for quality. Never buy based on price alone, you will pay for it down the track (removal, replacement and inconvenience). Most wall painters are not epoxy experts, neither are standard paint manufacturers. We use and recommend KLB Kötztal  epoxy floor coating products (Germany), but we also have trained Sika applicators where their products are specified. We have a range of epoxy floor systems to suit any flooring situation, and this means we won't try to convince you to use a substandard product because it's all we have.
Epoxy resin floor coatings are made by combining a base resin with a catalyst.  Epoxies can be either a solvent or solvent free systems, with the solvent based product emitting a strong solvent odor.  The solvent free systems are virtually odor free.  Some epoxies are sensitive to substrate moisture and can not be applied to new floors or floors that suffer from rising damp.  It is important to speak to one of our experts to ensure the right epoxy floor systems are specified.
One limitation of most epoxy floor coatings is that they are effected by UV exposure (unfiltered sunlight and certain artificial light) causing them to yellow.  This usually does not effect the performance, but can cause visual disappointment.  In such cases an aliphatic polyurea or polyaspartic is a better choice.
We have epoxy floor coatings suitable for Garage floors, Commercial kitchens, Mechanical workshops, Food processing areas, Electrostatic safe floors for computer server rooms and electronic component assembly, High chemical resistant floors, High impact floors, Smooth finishes for easy cleaning, coarse finishes for slip resistance. Decorative finishes for showrooms and retail stores, Special products for painting pools (commercial and public)….. the list goes on.
Our main supplier – KLB Kötztal, based in germany, produces over 1 Million SqM of high quality epoxy flooring resin per year. Their products are solvent free epoxy and very low odour, meaning work can continue in adjacent areas. There is also a range of fast cure products to minimise downtime and get production up and running as quickly as possible. We tailor each job with the products and procedures to give you the outcome that best suits your requirements with regards to product performance characteristics, quality, return to use time and cost. We also use a Zipwall dust barrier system (if the ceiling or roof is low enough) to block dust etc from contaminating the product and allow production to continue in adjacent areas while the floor is being done. This means a lower impact on the cost of having the floor done.
Our Epoxy Floor Coating Systems
EP 740 E – is our Waterborne Epoxy rollcoat system that consists of 2 x coloured top coats. Suitable for smooth floors (or smoothed floor) subject to low impact and weight bearing. Perfect for domestic garages, retail shops, showrooms, warehouses (not heavy fork traffic), toilet blocks etc. EP 740E has a matt finish.
EP 213-2 – Is our Medium duty solvent free self leveling epoxy floor coating system. This system consists of 2 x primer (EP 50) to ensure strong bonding to the substrate and a 2-3mm self leveling screed of high quality epoxy resin. This is laid 2mm thick as a 100% epoxy floor coating or 3mm thick as an fine aggregate reinforced epoxy mortar. EP-213-2 is suitable for medium impact and load bearing fork lift traffic. For rough floors that require some smoothing. For light industrial settings and warehousing. For high use commercial kitchens, workshops, manufacturing plants, showrooms etc. This has a gloss finish and looks very smart.
We can also do a 1mm thick self leveling application of EP 213 epoxy floor resin for the budget conscious customer. Some surface imperfection may be reflected in the finish and it will not have the same impact resistance as the thicker applications.
Other options include adding a coloured flake to the epoxy floor while the product is still wet, we have about 10 flake colours to choose from. This is a great look for showrooms, lunchrooms etc.
EP 213-4 – is our Heavy duty self leveling epoxy floor mortar coating system. This system consists of 2 x primer (EP 50) and a 4mm layer of fine aggregate reinforced high quality epoxy mortar. EP213-4 is suitable for higher impact usage and heavy folk lift traffic. Perfect for industrial floors and heavy manufacturing. Suitable for smoothing rougher floors.
EP 213 Rapid – Both of the above epoxy floor systems can be completed with the rapid version. This reduces the return to use time for foot traffic (after the screed is applied) to as little as 8 Hours @ 20 Deg C. Standard EP-213 is 18 hrs after screed is applied.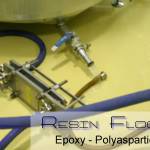 EP 285 CR – is a solvent free self leveling epoxy floor coating system with increased chemical resistance. It is applied 1.4mm – 3mm thick depending on the loading on the floor.
EP 285 EL+ – Is a chemical resistant, electrically conductive, 2 component epoxy resin coating. Suitable to areas that must be free of static electricity, such as computer rooms, electronic assembly and repair areas and dangerous flammable goods storage and use areas. Applied 1.4 – 2mm thick.
P 860 – is a top coating over our EP 213 products for increased chemical resistance where harsh cleaning chemicals are used, also for urine and animal waste. A perfect epoxy floor system for public toilet blocks is EP 52 primer (moisture tolerant), EP 213 with aggregate, and finished with EP 860. This makes a very durable, slip and chemical resistant floor.
EP 50 – Is our Standard epoxy floor priming system. 2 applications of this primer is applied for the epoxy screed systems, one rolled and one toweled with fine aggregate as a scratch coat. It can also be used under epoxy roll coat systems if the substrate is porous.
EP 52 – is a solvent free, moisture tolerant priming system that will bond to surface dry substrates. Can be used on concrete floors that have not fully cured and those that have reduced strength. Resistant to hydrolysis and saponification and increases resistance to osmosis. Can be used under timber flooring systems if moisture is suspected.
EP 52 Rapid – Is the rapid curing version of EP-52

Epotec – Best product for painting pools. We have the right gear to properly prepare concrete, block and fibreglass pools for repainting school and public pools. Good range of colours available. Made in New Zealand. We can even do lane marking. We can complete the job in a timely manner and get you back up and running.
EP 52 Mortar – We can make a Quartz/Epoxy mortar for structural repairs and load bearing ramps etc. Also used to create coving for wet/food safe areas. Suitable to filling floor joints and repairing spalls and large holes in concrete.
Granipoxy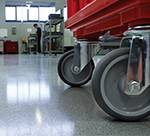 NEW – Granipoxy.  Granipoxy is a 2-3mm self levelling, attractive, epoxy floor topping.  Granipoxy has a granite like appearance and is perfect for both functional areas and public areas that benefit from a better appearance.  It has an aggregate "speckled" look that is right at home in Entrances, receptions, hallways, garages, laboratories …. Available in 5 standard colours Check it out here
aircraft hangers, automobile installations, automobile shops, bakeries, beverage industry, breweries, butcher shops, butcheries, cafe's, canteen kitchen, canteens, catering, chemical industry, clean rooms, creameries, dairies, electronic industry, engineering, event areas, exhibition hall, exhibitions, film-studios, fish processing, flower shops, foods industry, garages, high rack storage areas, hospitals, kitchens, laboratories, meat processing, military establishments, museums, packing areas, pedestrian zones, petrochemical' pharmaceutical industry, plant rooms, prisons, repair shops, restaurants and bars, sales areas, schools, service halls, stores, supermarkets, switching stations, toilet blocks, theatres, transformer stations, warehouses, wet areas, wineries, workshops .
Check out our Sparta-Guard FAST floor system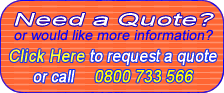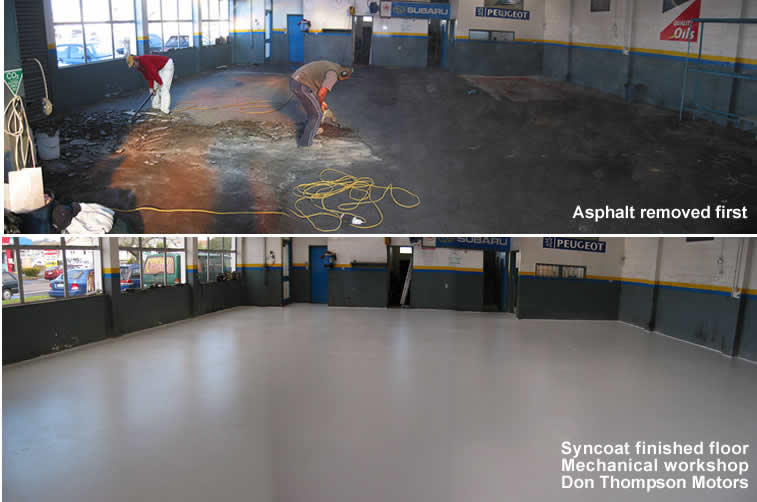 KLB Standard Colours (RAL Colour chart)
Click each colour for a bigger example.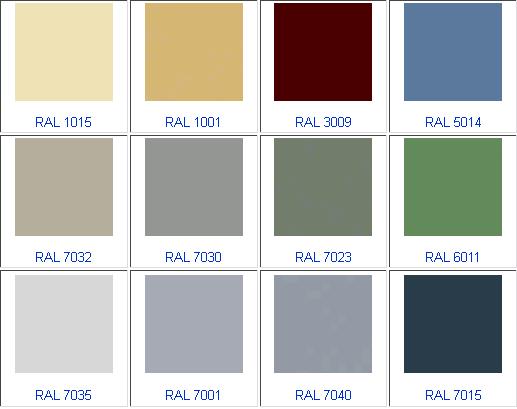 The specified colours are a guide colours. Slight deviations are possible. Different products in the same colour, can produce a different color impression. We can manufacture other colours when requested.
Call us today to discuss your epoxy floor requirements, or fill in our quote request form.
Epoxy floor coatings -epoxy floor coating – epoxy floor paint – epoxy floor sealer – coloured epoxy floor – clear epoxy floor sealer – epoxy floor – epoxy floor seal