Floor Masters Ltd specialises in concrete coating.
For about 15 years I have been applying concrete coatings, both functional concrete coatings and decorative concrete coatings (most of our systems provide both).
We offer a great range of concrete coating systems that include
Clear concrete coatings to enhance the existing concrete.
Tinted sealers to revitalise stamped and imprinted concrete.
Coloured Epoxy resin coatings for concrete floors
Polyaspartic resin coatings, clear, coloured and with decorative media like coloured flake and quartz.
Metallic resin concrete coatings for amazing effect floors
Moisture barriers – to stop rising damp and moisture vapour.
Cretecova – a Decorative concrete overlay that adds a new surface to concrete (both internal floor and external concrete surfaces).
Thincova – a lightly textured concrete overlay/resurfacing
Levelcova – a 5mm thick self leveling floor finish used over existing concrete.
Spraycova – an external concrete overlay/resurfacer for paths, driveways and courtyards.
and other custom solutions for your concrete surfaces.
Rather then just offering one solution, we offer many solutions and options and help our clients find the one that meets their requirements and cost point.
Sometimes once you start a job, thing can change – like we pull up carpet expecting it to be great concrete, and find the floor has been repaired with a levelling compound that will not look good as a polished concrete floor.  This has happened numerous times.  Other contractors who only do polished concrete will walk away, leaving the client to find another solution.  We are able to offer other alternatives and keep the job moving forward.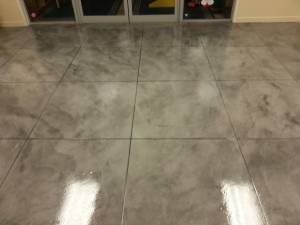 Exactly this happen a few weeks ago.  We started a job at a daycare when they closed on Friday night.  We removed the carpet and vinyl and get started on grinding the floor when we discovered that about half the area had up to 20mm of floor levelling compound on it (we could see at the doorway how thick it was), We called the client back and after about half an hour we had a new plan and luckily had some product in our van. We prepared and laid the area with Thincova. By Sunday the job was completely finished (including the carpet laid in the adjoining area) and on Monday the kids were enjoying a completely changed and improved room. The clients have told us they are glad it did not work out for the polished concrete as they prefer the Thincova.  We have since done another room for them and have yet another room booked in for Thincova concrete coating/resurfacing.