Here are some comments from our clients over the years
Damp Basement – Moisture barrier
"Our 1960's residential concrete basement was previously carpeted without preparation, causing dampness and damage. We called on Adam and his team at Floor Masters to grind and seal the floor properly so we could re-carpet the space and have a dry and healthy area. They did a great job and were on time, fast, and friendly. There was minimal household disruption as the products were fast drying and almost odourless. We highly recommend Floor Masters."
Regards  Tasha Harvey
First Home
"My partner and I recently purchased our first home with a carpeted concrete floor in the lounge. We decided to get it polished. However, when our polisher started to grind the concrete it was discovered the concrete was too weak for this process.
At a loss about what to do and with no desire to re-carpet, we searched the internet and found Floormasters. We chose a grey cretecova with a textured wash as a finish. The process also involved levelling the floor and grinding the humps prior to finishing. All undertaken by the Floormaster team.
We're very happy with our final floor and extremely happy with the speed they were able to undertake the process. It was all completed within 2 days and at short notice. They were a pleasure to work with."
Mark & Bronwyn
Broomcova over driveway
Hi Adam,
Just wanted to thank you and your team for correcting someone else's mistake.
Floor Masters ground the old seal back to bare concrete and then applying the charcoal finish
Looks amazing and makes the property stand out with added value.
Thanks
Krish
Krish had his new home built, but the concrete was supposed to be a "licorice" colour.  Instead of 18Kg of black oxide they only added 8kg.  Then to try and fix it they applied 6 coloured coats of sealer.  It looked patchy, their anti-slip was inconsistient and it looked bad as well as being slippery.
see the video of this job https://youtu.be/YLB-N-AMaiw

Tuxedo Sparta-Flake Floor (Garage)
Thanks Adam,
….lots of people admiring the superb finish, so hopefully more orders coming your way from my mates!
Cheers  Simon
Stitch Crack Repairs
Hi Adam,
Many thanks for the repair job completed on our cracked concrete floor.  I really appreciated your advice on how to handle the problem and the professional way everyone worked together to get a great result.
I would not hesitate to recommend Floor Masters Ltd.
Thank you again for your help.Regards
Sue  (St Johns, Auckland) 18/5/2014
– Background information – Sue bought a house and the edge of her lounge room floor was an add on, where they have laid an additional separate concrete slab.  Over time the concrete has sunk.  She spent thousands of dollars getting resin injected under the slab to lift it again.  She called us about blending the height better.  We discovered that the other contractors had not made any effort to bond the 2 slabs together again.  So we did a "Stitch repair" , where we cut and inserted rods across the joint to tie the 2 slabs together again.
Patio concrete grinding & Grouting + Driveway Sealing
Hi Adam 🙂
We were up to the finishing touches of our 6 month Reno when we were recommended Floor Masters.
We had a large surface area of concrete that we wanted finishing.
(Including a large courtyard that required cleaning, grouting and polishing)
From the word go they were great.
All the team are very helpful, approachable and went above and beyond my expectations. They went out of their way to ensure they had done a great job.
I would absolutely recommend them to anyone looking to beautify/finish their surfaces.
Sent from my iPhone (Jamie L – MeadowBank, Auckland)
Moisture Problem/ Bad Smell
"Thanks so much to you Adam and your team at Floor Masters Ltd for helping us out with our concrete floor issue.  We were challenged to find a remedy and rid our floors of its awful odour and moisture issue.  We did finally find a solution and you and your team were excellent in carrying out the job in a sensitive and professional manner.  Thank you for your expertise and support"
David and Kelly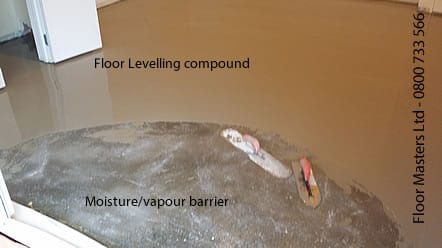 Garage Floor
"We had put off for many years having our garage floor sealed and now we have seen the finished result wished we had done it earlier. Floor Masters were extremely professional, competitive, honoured all commitments and provided a quality finish. We were extremely pleased".
 Cheers 
Chris Bayliss
Rugby Club
Thank your people for their excellent work. I will certainly recommend others to the products & workmanship that you provide.   Thanks & regards
 Glenn W Archibald
– Work done at Papakura Rugby Football club – Ramped floor for shower area and applied Syncoat EP213 non slip epoxy system.
Concrete driveway resurfacing – Auckland
Hi Adam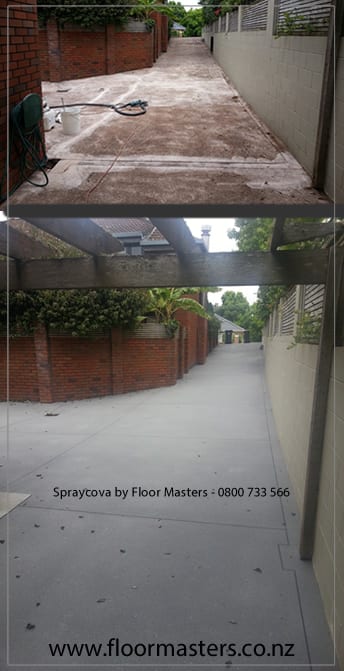 Firstly, let me say thanks very much for slotting us into your schedule, I know it's a busy time and the weather has not been too kind!
The driveway looks fantastic, I really like the look and design you have come up with to incorporate the existing stress cracks and tie it in with the overall theme of the property. I will be more than happy to write a customer reference and am also happy if it helps, to have you take photos for your website and show other potential clients. 
Gavin B – Remurea Auckland
Many thanks- Gavin – We transformed his old McCallums Chip (red) driveway into a modern entrance to his Remurea Property
Grinding and sealing sharp exposed aggregate driveway
Dear Adam
Following your grind and seal job on our driveway, we want to thank you for a good job well done.  Your staff were courteous and friendly as well as being efficient at their work.  They finished it well and with a minimum of fuss.  The drainage has improved and the look is as good as we expected.  We'll have to see about getting the rest done now!
Kind regards
Roger & Pam C
Browns BAY
Cretecova Resurfacing of kitchen and dining area
Hi Adam,
Just a note to let you know that I have transfered the balance of the amount to your bank by direct debit today, and that we are really very pleased with the results. The Kitchen looks much bigger and cleaner.  The boys (men) were just great, they arrived on time ( no mean feat in Aucklands traffic), got on with the job, all have delightful personalities and did a wonderful job.   I have been singing their praises to anyone who will listen over the past weekend, so hopefully you will have lots of prospective clients phoning you…I even have a young couple coming to see the floor next week…..  I would be more than happy to be used as a reference if the need should arise.
Kind regards to you all and thank you all again, Anita (Mirangi Bay, Auckland)
Cretecova through living areas of home
Thank you for your good work and great service!
I'm so impressed by the result that I hope to talk to you in about a year
about hopefully resurfacing all of the concrete in my whole patio!
Thanks
Celeste (Henderson Heights)